NEW RELEASE
WHAT MAKES THIS BOOK SO SPECIAL?
This book was written as a resource from my personal experience.
Written for families who have suffered a traumatic loss to help them regain a sense of control.
Also written for Victims Advocates and the other professionals working to support victims and their families after a traumatic loss.
Unthinkable is now an Amazon Best Seller! Find out what others are raving about.
Kirkus Reviews called Unthinkable "A well-written and thoughtful guide to managing a challenging process."
---
we work closely with law enforcement and victim advocates.
Get in touch with us to request free copies of the book
---
learn more about upcoming events
ABOUT ME
Kyle Bachus won his first argument in front of the state supreme court when he was seventeen years old. As a junior in high school, Kyle attended a Florida state legislation day for high school students. There, he was selected to argue a predetermined topic in front of a panel of licensed lawyers sitting on a mock supreme court. He was provided with appropriate documentation and tasked with researching and preparing his argument. Selected as one of the best presenters of the day statewide, he was both surprised and inspired to pursue a career in law.
He graduated from the University of Florida with a Bachelor of Science degree in 1989 and from the University of Florida College of Law three years later. He began work the Monday after graduation in a plaintiff 's personal injury law firm.
Kyle moved to Colorado in 1994 and joined a Denver personal injury law firm. Two years later, Kyle and fellow lawyer Darin Schanker opened Bachus & Schanker, LLC in a tiny, rented office with less than $15,000. In the years since, Bachus & Schanker has grown into one of the largest personal injury firms in the region. Today, Kyle oversees the firm's Elite Litigation Group, where he limits his personal practice to representing families throughout the United States in wrongful death and catastrophic injury cases.
Kyle is a member of the Colorado and Florida Bar associations and has served on the Board of Directors of the Colorado Trial Lawyers Association for more than twenty years in total. He has served on numerous committees and repeatedly won recognition from his peers at both the state and national level. He is proud of the role he has played in the passage of state and national legislation to protect consumers and is a frequent speaker and guest lecturer.
Kyle lives in Denver with his wife and their three children.
Kyle's mission is to help families by providing real answers to all of the difficult questions that arise after a traumatic loss. How can he help you?
With the launch of Unthinkable, Kyle immediately became a Best Selling Author as many others found the tools provided within a much needed resource.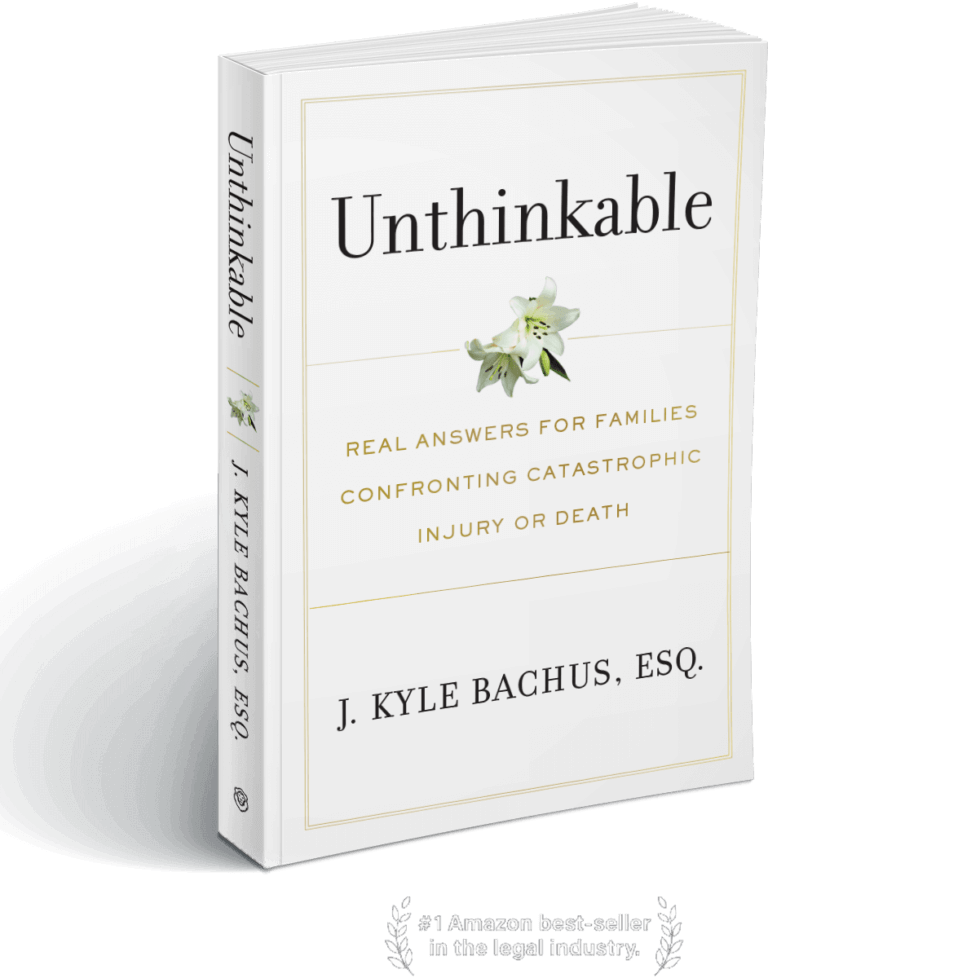 AVAILABLE NOW
You only have control over three things in your life—the thoughts you think, the images you visualize, and the actions you take.—Jack Canfield
In the aftermath of unthinkable loss or catastrophic injury caused by the negligence of others, shock, uncertainty, and anger set in. You can't change what happened, but you can control your next steps with a plan—one that will help your family tackle the challenges ahead and ease the overwhelming burden.
Few understand this more than nationally recognized lawyer Kyle Bachus. With more than twenty-five years of experience representing families in catastrophic injury and death cases, Kyle gained first-hand knowledge of his clients' experiences when his own mother was struck and killed in a crosswalk. Now, in Unthinkable, Kyle provides a practical roadmap for navigating a path that no one chooses. He takes you through the process in chronological order, from what to expect in the police investigation to your rights as a victim and claiming victim's compensation. You'll gain the tools you need to handle numerous issues and unforeseen questions in the aftermath of tragedy, including insight into your options for holding those at fault accountable through the civil justice system. An invaluable asset for anyone struggling with next steps (or knows someone who is), Unthinkable is the guidance you need to control what you can, gain peace of mind, and focus on what truly counts.
Readers are describing the information in this book as essential. Get your copy today to find out what made Unthinkable an instant bestseller.
BUY NOW